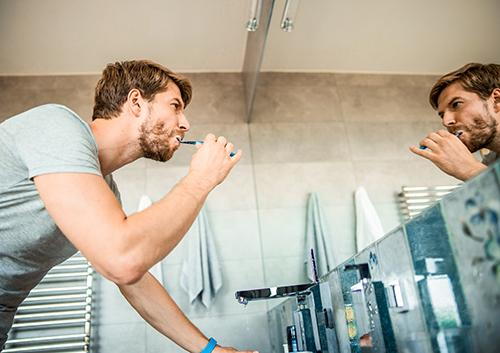 Imagine that you're only going to brush your teeth once tomorrow. Don't worry, we know you would never skimp on your dental hygiene like that, but let's just pretend for a moment. When would be the best time to brush? When you wake up? During the day? Or perhaps before you go to bed?
Actually, whenever you choose to brush, you'll receive important overall dental benefits as well as specific benefits tied to the time of day. Let's explore your daily schedule to see why.
Brushing in the Morning
Brushing when you first jump out of bed produces several positive results.
Cleaning plaque from your teeth
Plaque is a sticky film made up of oral bacteria, food particles, and saliva. As you sleep, these oral bacteria multiply and produce acids which attack the minerals in your enamel, leaving weak spots which, over time, can become cavities. Brushing removes these bacteria and acids from your enamel before they cause serious harm.
Moreover, plaque hardens if it's left undisturbed, turning into tartar in a relatively short time. And once plaque becomes tartar, it must be removed by a dental professional. Brushing first thing in the morning removes this plaque buildup and helps prevent tartar from forming.
That bacterial growth we mentioned? It's also responsible for morning breath. If nothing else, brushing when you wake up means greeting a fresh day with fresh breath, and that's reason enough to pick up your brush in the morning.
Brushing During the Day
Brushing after meals and snacks also has a lot to recommend it.
"Leftovers" lead to cavities
Foods, especially foods rich in sugar and carbohydrates, are converted by oral bacteria into acids which weaken enamel and lead to cavities. When food particles remain in the mouth after a meal, bacteria have more time and more fuel to manufacture these acids.
Acidic foods also affect your teeth
If you have eaten something acidic, such as citrus fruits, sodas, or pickled anything, the acids from these foods can temporarily weaken the mineral strength of your enamel. But brushing immediately after eating or drinking acidic foods can damage weakened enamel. Better to rinse well with water and brush after half an hour or so.
Brushing at Night
Growing up, you probably received regular reminders to brush before bedtime—for several really good reasons:
Saliva production slows while you sleep
During the day, saliva helps to wash away food particles and neutralize acidity in our mouths. It also contains proteins and minerals which help keep tooth enamel strong. But as we sleep, saliva production slows dramatically, and our bodies can't remove bacteria and acids as effectively.
Food particles fuel bacterial growth
If you haven't brushed since morning, you've accumulated a whole day's worth of food particles from meals and snacks. Remember, oral bacteria use the sugars and carbs we eat as fuel to produce the acids which attack our tooth enamel throughout the night.
Brushing helps prevent both of these problems
Brushing your teeth before bed not only cleans away the accumulated food particles of the day, but also eliminates the plaque and bacteria which would have a much easier time sticking to your teeth without that daytime saliva flow to wash them away.
So, When's the Best Time to Brush?
In the morning, during the day, at night —there are solid advantages to brushing any time of day. The question isn't so much when to brush as how often you should brush.
While many dental professionals consider brushing before bedtime as the most important brush of the day, brushing at least two full minutes, at least twice during a 24 hour period, is a necessity for basic dental hygiene. (And don't forget to floss at least once each day.)
If you wear orthodontic appliances, if you've been eating sugary snacks, if you're showing signs of gingivitis or getting more than your share of cavities, if you want to reduce the chance of plaque and tartar buildup, or if you simply want to make sure you're doing everything you can to maintain your overall dental health, brushing after meals is also highly recommended.
Talk to the doctor about your brushing habits the next time you visit our BEAUFORT, South Carolina office. No need to use your imagination to plan your best brushing schedule. We have all the answers you need to help you brush your way to your best—and healthiest—smile!