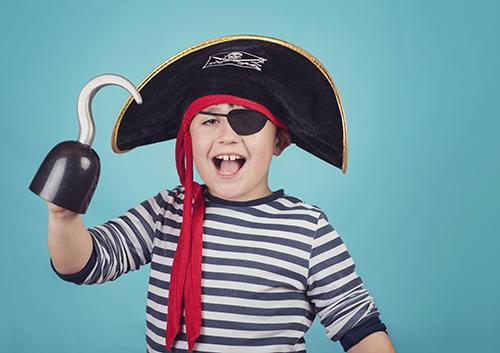 September 19th is just around the corner, and you know what that means—Aye, matey, it's "Talk Like a Pirate Day"! Why do we have a "Talk Like a Pirate Day" and not a "Take Care of Your Teeth Like a Pirate Day"? You don't need a treasure map to find the answers!
The toothbrush as we know it, with easy to clean nylon bristles, was invented less than 100 years ago. Even toothbrushes with animal bristles weren't easily available until a century after pirates sailed the seas. If pirates brushed at all, they probably used rags or twigs with frayed ends to clean their teeth. And rags and twigs just can't take care of plaque the way careful brushing and flossing can.
Two minutes brushing in the morning and two minutes at night, with careful flossing each day, will help keep your teeth as white as a chest of pearls—and healthy to boot!
Pirates were a scurvy lot—literally. Scurvy is a disease caused by a lack of vitamin C, a vitamin found in fresh fruits and vegetables. One of the many unpleasant symptoms of scurvy is bleeding, swollen gums. As you can imagine, months at sea on a pirate ship provided very few chances for fresh fruit and vegetables. As a result, sailors often had to live with gum pain and even tooth loss from serious gum disease.
We now know that eating a healthy diet is a key to oral health. In fact, it was a British naval doctor who discovered that bringing oranges, lemons, and limes aboard sailing vessels prevented scurvy—but sadly for our pirate crew, this discovery happened several decades after the Golden Age of Piracy. Fortunately, you have access to a bounty of fresh fruit and vegetables. Eat a diet rich in vitamins and minerals, and your teeth and gums will be all the better for it.
It's not looking too good for our pirate crew, but let's look on the bright side—even if a pirate did get a cavity or suffer gum disease, he could always see the ship's dentist, couldn't he?
Ship's Dentist—Arrrr You Kidding?
If a pirate had a bad cavity, his best treatment option would probably be to ask a fellow pirate to pull the tooth. If a pirate needed a root canal, his best treatment option would probably be to ask a fellow pirate to pull the tooth. If a pirate had a cracked tooth, his best… well, you get the picture.
Luckily, it's a different world today. Now we have dentists with years of education and training, modern tools and equipment, and the very best medical knowledge to treat all of our dental problems, big and small. See your dentist at least twice a year for exams and cleanings, and you will reap the bountiful rewards of regular, professional, proactive care.
Being a pirate for a day is fun. We all enjoy tales of a good treasure hunt. But you already have a treasure that most pirates could never hope to have—healthy teeth and healthy gums! And with proper care, this treasure can last a lifetime. Until next September 19th, fair winds and good checkups at our BEAUFORT, South Carolina office be yours, matey!